The star of "The Fast and the Furious" movie franchise and another person died in Southern California after the Porsche they were in crashed, his rep confirmed to the Daily News. Walker was attending a charity event in Santa Clarita, about 30 miles north of Los Angeles.
Paul Walker, 40, died in a car accident in California on Saturday afternoon. Here,
Walker attends the "Fast & Furious 6" world premiere in London, England, on May 7.
Actor Paul Walker — a self-styled adrenaline junkie best known for his role in "The Fast and the Furious" movies — was killed Saturday in a fiery single-car wreck in Southern California.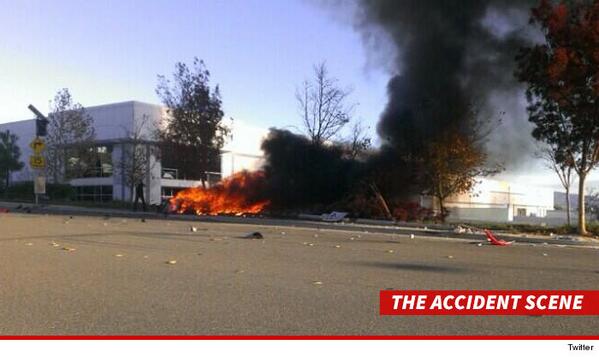 Firefighters spray water on the wreckage of the Porsche that crashed in Valencia,
Calif., on Saturday.
Moments later, the car burst into flames.
A sheriff's deputy at the scene of a crash in Valencia, Calif., where Paul
Walker and another person were killed when a Porsche crashed Saturday.
Walker was in Santa Clarita, about 30 miles north of Los Angeles, for a charity event for
his organization Reach Out Worldwide.
"It is with a truly heavy heart that we must confirm that Paul Walker passed away today in
a tragic car accident," read a message posted on his Facebook page. "He was a passenger
in a friend's car, in which both lost their lives. We appreciate your patience as we too are
stunned and saddened beyond belief by this news."
Another spectator at the crash site said Walker had been taking a "joyride" with a close friend.
A Porsche GT like the one Paul Walker was riding in California when
he died Saturday, according to TMZ.
From left to right: Luke Evans, Michelle Rodriguez, Ludacris, Gal Gadot,
Paul Walker, Justin Lin, Elisa Pataky, Vin Diesel, Gina Carano, Tyrese
Gibson and Ssung Kang attend the world premiere of "Fast & Furious 6"
in London, England, on May 7.
"We're all here driving, enjoying each other, and God must've needed help."
Paul Walker in "2 Fast 2 Furious." The franchise was his most well-known
work.
"We all ran around and jumped in cars and grabbed fire extinguishers and immediately
went to the vehicle,"
Holmes said
. "It was engulfed in flames. There was nothing. They
were trapped. Employees, friends of the shop. We tried. We tried. We went through fire
extinguishers."
The crash occurred on Rye Canyon Loop, according to the Los Angeles County Sheriff's
Department.
This photo, sent out on Nov. 29, was the last tweeted from Paul Walker's
account before his death, showing him with co-starts Tyrese Gibson and
Vin Diesel: "The boys are back. Will you be ready? - #TeamPW #FastFridays."
Responding deputies found the vehicle "engulfed in flames," according to a sheriff's
department release.
Rest In Peace Paul.....so sad